Atlanta Warehousing and Fulfillment
Multiple warehouses in Atlanta, GA to provide the capacity you need. Public, bonded, and contract warehousing and fulfillment with flexible pricing and no long-term commitments. Cover a wide range of product types with our food grade, organic, AIB, Medical, and more capabilities.
Leading Warehouser in Atlanta, Georgia
STORD has been headquartered in and warehousing in Atlanta since 2015 and is a leading 3PL in the nation. Our modern logistics centers and powerful software serve as a hub to connect you with major shipping destinations and your customers.
Located in the northern part of Georgia, Atlanta is one of the best cities for inventory placement in the United States. "The Logistics Capital of the US", Atlanta, is a central conduit for freight volumes due to having multiple major interstates pass directly through the city (e.g. I-75, I-85, I-20), maintaining close ties with the fourth largest port in the US - the Port of Savannah (alongside the Ports of Charleston and Miami), and containing the major air-cargo hub and busiest airport in the world - Hartsfield-Jackson Airport.
Complete Warehousing Services
STORD's Atlanta facilities (and nationwide network of warehouses) provide an array of warehousing services and fulfillment services including: pick & pack, kitting, retail store preparation, bulk storage & consolidation, forward stocking, palletization, omnichannel fulfillment, and value-added services. For complex distribution needs, STORD's team of supply chain specialists and data scientists, will work to provide an optimized solution that fits your product, customer, and current network requirements.
Non-Palletized & Palletized Storage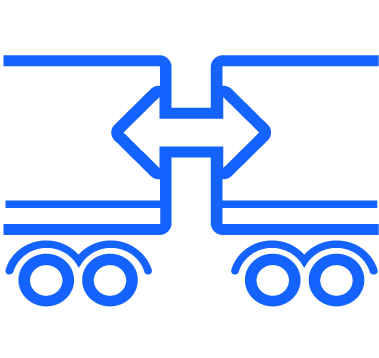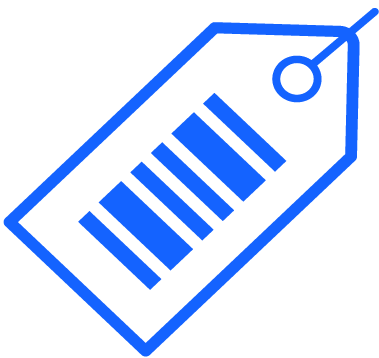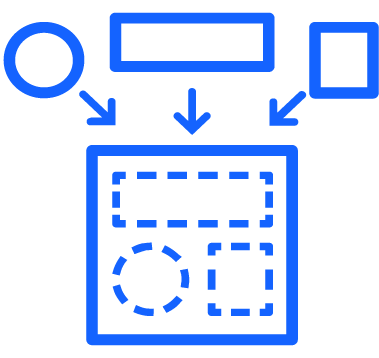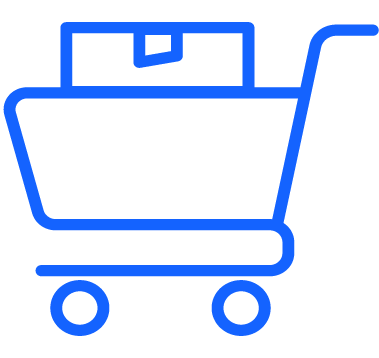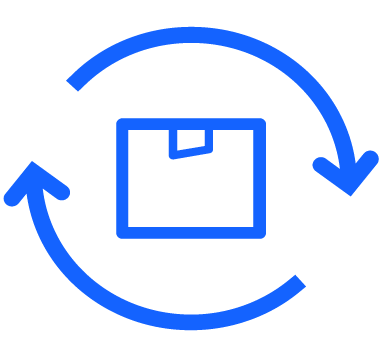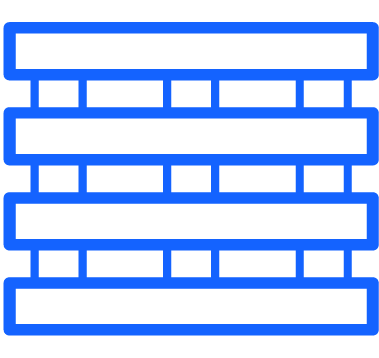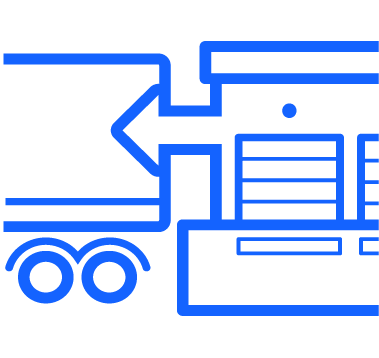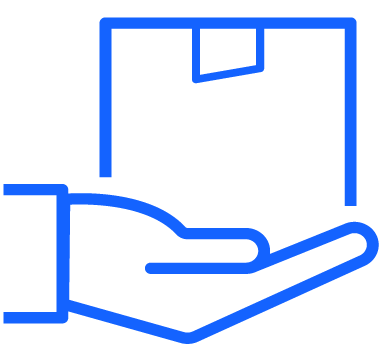 Atlanta Warehouse Facilities
Our Atlanta facilities meet the following key specifications:
Rack & Floor Storage

Security Cages

CCTV Surveillance

>50 Loading Docks (at most locations)

Rail-servicing (at several locations)

EFSR Sprinklers

LED Lighting

100s of Trailer Parking Spots

Fully fenced and secure facilities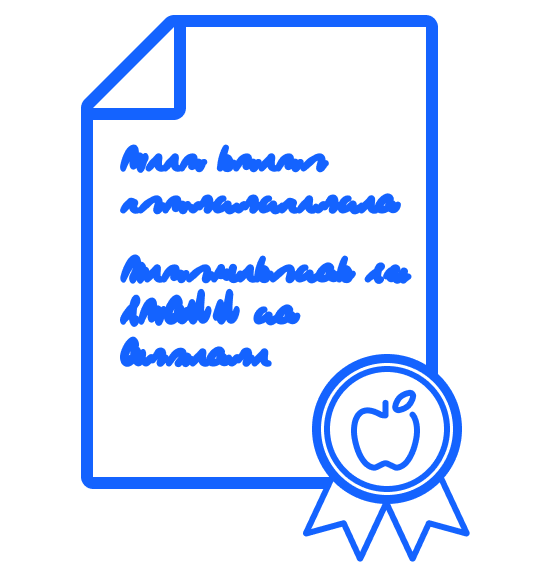 Ensure that your food product storage requirements are met every step of the way with our food-grade facilities.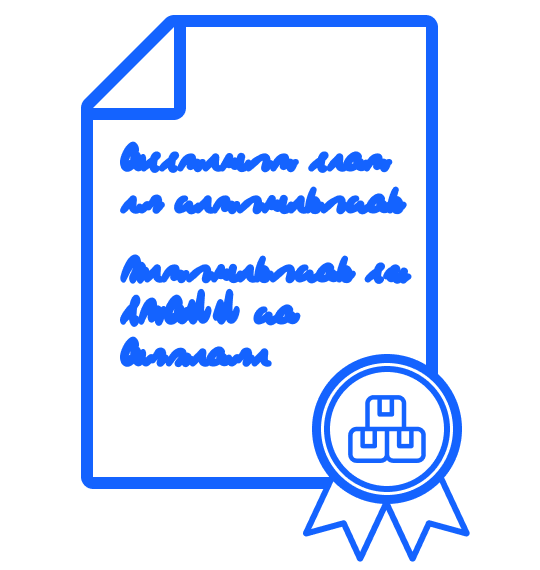 Avoid complex and expensive duty charges while warehousing in our Atlanta bonded facilities.

Have additional certifications needed?
Let us know and we can acquire them for you.

The Stord team enabled us to implement a smart solution for our very complex supply chain. Their fast response time and agile approach was key. Without this option, we would have been forced to take on a long-term solution with unnecessary fixed costs.
Vice President, Supply Chain Strategy & Transformation
Book the warehouse space you need today
Why Warehouse in Atlanta?
Logistics capital of the US - Atlanta, GA
Atlanta has long been known as the transportation capital of the US, but it has continued to grow its breadth of supply chain services. Originally called Terminus, due to being a prime railroad change point, it has grown to support every form of transportation:
Ocean freight via the Savannah port

Air freight via Hartsfield-Jackson Airport

Trucking via the main highways that run through the city, highway 75 and highway 85
STORD has warehoused in Atlanta since 2015 and has built capacity of hundreds of thousands of sqft to ensure that your product can be situated in "The Logistics Capital of the US".
Close to major cities across the Southeast
With 80% of the US population within a two-day truck drive of Atlanta, and a majority of the major cities of the Southeast within a several hour driving distance of the city, you can accelerate the velocity of your distribution and ensure that you're exceeding customer expectations.
STORD's freight network of over fifteen thousand carriers and 100% commitment guarantee ensures that regardless of the transport method or the destination, your freight gets there on time and in full.
Near one of the fastest growing ports in the US
Outside of Georgia's strong rail, air traffic, and highway systems, Georgia has heavily invested in infrastructure to further support logistics services. As a result, the port of Savannah has quickly become one of the largest ports in the US and one of the fastest growing year-over-year. For most businesses, Savannah is one of the most sure entry-points to distribution with over 20% of the US population already served by the Port of Savannah and the remainder within easy reach via rail and truck transportation.
Minutes from One of the Largest Air Cargo Hubs
Atlanta has the world's busiest passenger airport in the world, Hartsfield-Jackson Atlanta International Airport, but it is also the 14th-largest air cargo hub in the United States. Whether your product needs to travel by plane, truck, or train, you can be certain that the resources are there in Atlanta. Hartsfield-Jackson Airport has been rapidly scaling it's air cargo transport, handling more than 1.2 million metric tons of cargo in 2017. With UPS, FedEx, Delta Cargo, DHL Express, and more shipping out of ATL, you can be sure you'll have a provider for your air freight needs. With three main cargo complexes, the airport houses 14 cargo-only carriers and can reach ~80% of the US within a 2 hour flight time.
2-day Coverage of 80% of US Population by Truck
You can reach new customer segments as well as handle large scale imports with the port of Savannah within a short distance and one of the largest air cargo hubs in the world, ATL Airport, within a few miles of STORD's Atlanta warehouses.
Receive inventory from suppliers and manufacturers or consolidate inventory for outbound shipments to international markets.
Learn more about STORD's network of facilities and integrated software
Full Warehousing Services And More
Atlanta Warehousing & Beyond
With deep warehousing capabilities in Atlanta, GA and across the US, you can be certain that you'll be able to take your logistics to the cloud and ship through our flexible, nationwide network of hundreds of warehouses and 15k+ carriers, or onboard your existing 3PLs. Never worry about competing distribution strategies, we'll optimize your distribution network to achieve true omnichannel distribution across our network.
Comprehensive Freight Network
FTL, LTL, drayage, parcel, last-mile delivery -- Stord coordinates the freight services you need to stock your network and reach your customers. Our team of supply chain transportation experts is TIA Member Performance Certified with a 99% on-time delivery rate. With our freight audit capabilities and our 100% guarantee to cover loads at our committed prices, you're never surprised by unexpected charges.
Centralized Distribution Software
Gain real-time visibility over all your inventory regardless of where it is in your network with Stord's cloud-based software, leaving behind the multitude of emails, spreadsheets and phone calls that impede data-drive decisions. With a single-point of integration, you never have to worry about transposing information between systems again.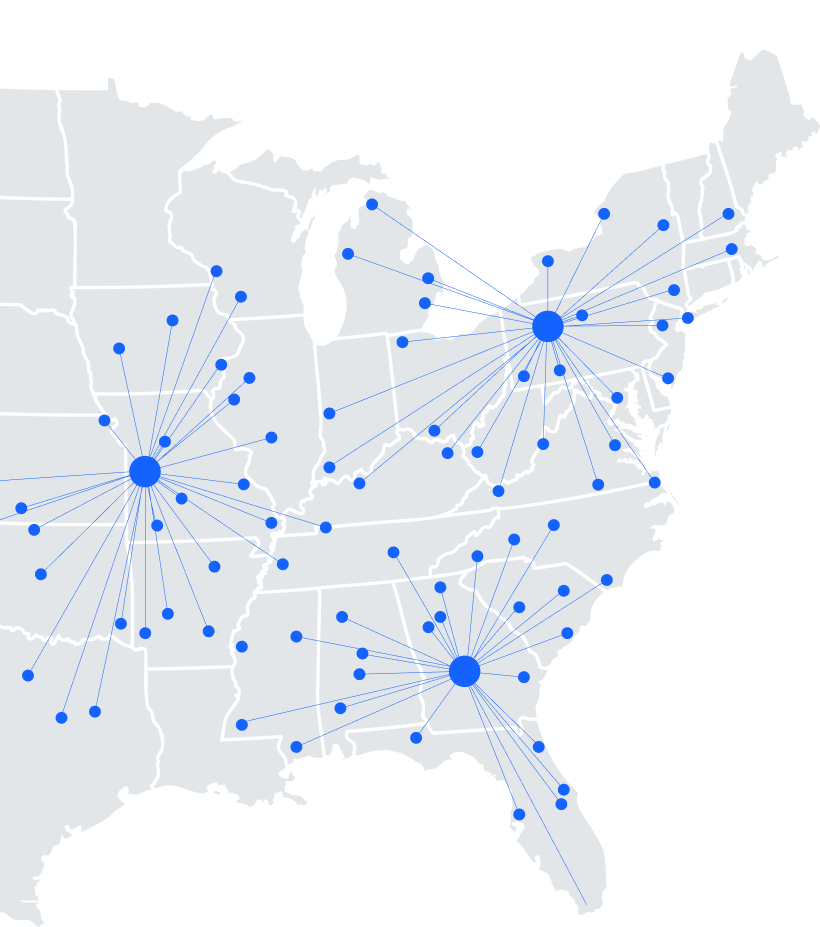 Nationwide Network Optimization
Have network needs that require your products to be placed nationwide? Allow STORD's ML models to run analysis on your broader network and help ensure your product is placed in the right places for the best storage and transportation costs while exceeding your customer's delivery lead times. With Atlanta as part of STORD's nationwide network of hundreds of warehouses, your product can be located in all the places your customers need.
STORD's Model - Networked Distribution
Traditional supply chain networks have been built to be one-to-many networks that are patched together utilizing manual processes and inefficient operational constraints. This strategy has compounded over time to create poor data visibility, inefficiencies, and overspend.
STORD enables shippers to escape these inefficiencies and operational constraints to build sophisticated and scalable supply chains and distribution networks with STORD's global logistics network and software.
STORD is the leader in creating digitally connected, agile supply chains for today's leading Manufacturers, Distributors, CPGs, E-commerce sellers, Retailers, and more; by leveraging STORD's state-of-the-art cloud software connected to a network of 500+ warehouses, 15,000+ carriers, and extended 3PL services, STORD helps companies like yours with:
Inventory visibility across the distributed supply chain

Normalized data leveraging ML for actionable insight across all your supply chain data

Flexible and permanent warehousing, fulfillment, and distribution

Forward stocking location strategy, facilities and delivery

Last mile, truckload, LTL and intermodal transportation

Data analysis and network design
By building an integrated network of logistics service providers powered by advanced, cloud-based technology, STORD is building the next phase of warehousing and distribution, Networked Distribution.
STORD's CEO, Sean Henry, and partner at Dynamo Ventures, Santosh Sankar, explain how Networked Distribution can help companies build more effective supply chains.
Get the Walk-through on Networked Distribution
What makes STORD's model special
You need a distribution network that accelerates your distribution capabilities, provides increased flexibility to respond to new markets and market changes, lowers your operational constraints, and provides you improved insights to make better decisions. STORD's integrated, technology-powered warehouses removes wasted inefficiencies, centralizes your insights, and scales with your business so you can cut fixed costs, improve delivery lead times, avoid stock-outs, and turn your supply chain into a competitive advantage. With our Atlanta warehouses and nationwide network, you can be sure that you have access to the optimal network for warehousing and distribution.
Nationwide Omni-channel Distribution
Store your inventory in a STORD Atlanta warehouse as well as at distribution centers and fulfillment centers across the United States that allow you to scale to full omni-channel distribution across the country. Whether you're distributing to retailers, end-customers, consumers, or more, STORD's network of warehouses in Atlanta and across the country is purpose-built to enable companies with complex distribution requirements to excel. Shorten your transit times; remove inflexible, fixed costs; gain new insights; and turn your distribution network into a competitive advantage.
Oriented Around Your Success
Even with seamlessly automated integrations and a centralized, cloud-based system for managing your extended distribution network, it's always helpful to have additional support. STORD's supply chain and operations teams are available to assist across any part of your distribution network. Whether you have questions on where you should place your next warehouse or want to implement new processes at your Atlanta facility, STORD's supply chain team can help you solve any challenges and keep your supply chain running smoothly.
Centralized Software for Distribution
Instead of logging-in to various warehouse management systems, order management systems, and more alongside your ERP or coordinating across email chains or phone calls, you can simply log-in to one system - STORD's cloud-based distribution-management system. From STORD's web system, you can manage your inventory, orders, shipments and more and gain insight into operational updates as well as high-level network insights.
Insights and Reporting
To operate across a distributed supply chain and complex distribution network, you need to be able to pull information from the systems you work with. Too often, pulling information from the distribution softwares you work with means manually going through scanned PDFs or getting snippets of the information in spreadsheets that your business intelligence team or supply chain analytics team needs to compile into a comprehensive picture, at which point it may be out-of-date. STORD's system standardizes the data across your distribution network and provides reports across your inventory movements, orders, and more.
Single Integration for Your Entire Distribution Network
The typical supply chain or distribution network contains 10s or even 100s of softwares that don't talk to each other, let alone the additional emails, text messages, phone calls, faxes, excel documents, pdfs, and more that exist in siloed email chains and communication platforms. STORD's software and integrative capabilities bring that to one location so that you simply utilize STORD's cloud-based software or integrate once from your OMS or ERP and get access to all of the information across your distribution network. You no longer have to worry about maintaining integrations to every logistics service provider in your network, individual warehousing facility, or ancillary systems; STORD is integrated across the network of providers and can layer in your network for visibility as needed.
ERP Integrations
Most supply chain "solutions" silo data outside your ERP system. STORD takes the opposite approach; STORD's system is purpose built for supply-chain and built with cutting-edge technologies and architectures to allow for integrations across all major ERP systems. Whether you're operating Netsuite, SAP, Infor, or an alternative, STORD integrates and can ensure that the information you work off of in your ERP matches what's happening across your distribution network.
EDI, API, and more
Avoid months of prolonged, disjointed integration processes that so often end up getting delayed or extending over-schedule. With STORD, you work directly with our industry-leading integration team that can assist you in integrating to STORD's flexible software system in the integration method that is best for your system and IT requirements. STORD can handle EDI integrations, API integrations, flat-file integrations, automated workflows, and more.
Connect with a Supply Chain Expert on our team to solve your distribution needs

The Stord team enabled us to implement a smart solution for our very complex supply chain. Their fast response time and agile approach was key. Without this option, we would have been forced to take on a long-term solution with unnecessary fixed costs.
Vice President, Supply Chain Strategy & Transformation
Full-Service

ATL Warehousing
CONTACT US TO BOOK SPACE TODAY
We'd like to keep sending you useful content. You may opt out at anytime. By submitting this form, you agree to receive communications at the email address provided. For more information, please see your Privacy Policy.